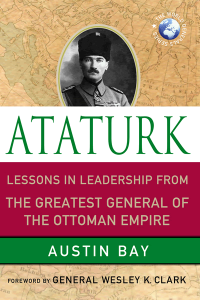 "This book is a clear, concise and fast-paced account of Ataturk's military triumphs and rise to power. It brings him vividly to life and highlights the qualities that allowed him to become the most successful revolutionary of the 20th century."
–Stephen Kinzer
Ataturk: Lessons in Leadership from the Greatest General of the Ottoman Empire
(Palgrave MacMillan, 2011)
A military biography of Kemal Ataturk, covering his early life, military and cultural achievements, and continuing legacy in the 21st century.
Reviews
Turkey is very much in the news these days, and soldier, scholar and columnist Austin Bay provides us with a biography of Kemal Ataturk, the brilliant soldier and politician who created modern secular Turkey–and whose achievements are now being challenged. Anyone who wants to know more about Turkey should read this book."
—Michael Barone
"Austin Bay's Ataturk book is great history and great Hollywood. Before James Bond, there was Kemal Ataturk, a military genius who turned into a George Washington once his 007 days were over. After World War One Ataturk saved Turkey from being dismembered, then reformed it –turning Turkey into a very different place than it was when Ottoman sultans ruled."
–James F. Dunnigan
"In a changing world there is always something new to say about the authors of change throughout history. Austin Bay has widened our understanding of Mustafa Kemal, the general who founded and shaped the Turkish Republic, by showing convincingly that the choices made by Atatürk validate and are in turn validated by modern military doctrine. This is one reason for recommending his succinct account of Atatürk's life and achievements. His book justifies Atatürk's inclusion in the series of the world's great military leaders."
–Andrew Mango
Product Description
Mustafa Kemal Atatürk was a Muslim visionary, revolutionary statesman, and founder of the Republic of Turkey. The West knows him best as the leading Ottoman officer in World War I's Battle of Gallipoli—a defeat for the Allies, and the Ottoman empire's greatest victory. Gaining fame as an exemplary military officer, he went on to lead his people in the Turkish War of Independence, abolishing the Ottoman Sultanate, emancipating women, and adopting western dress. Deeply influenced by the Enlightenment, Atatürk sought to transform the empire into a modern and secular nation-state, and during his presidency, embarked upon a program of impressive political, economic, and cultural reforms. Militarily and politically he excelled at all levels of conflict, from the tactical, through the operational, to the strategic, and into the rarified realm of grand strategy. His ability to integrate the immediate with the ultimate serves as an important lesson for leaders engaged in the twenty-first century's great military struggles. He became the only leader in history to successfully turn a Muslim nation into a Western parliamentary democracy and secular state, leaving behind a legacy of modernization and military and political leadership.
---
More Non-FictionFull List of Books + War Games